GBP/USD Forecast: Poised To Break 1.3400, Awaits UK Jobs Data
The GBP/USD price forecast is bearish as Greenback maintains its bullishness while Brexit concerns weigh on the Sterling (UUP, FXB).
Photo by Colin Watts on Unsplash
The pound continues to struggle against the dollar at 1.3430 levels on its way to opening up Europe while investors await UK employment data for another trading update. Following Monday's negative close, the pair resumed trading on Tuesday on a positive note around 1.34125, up 0.11% at the time of writing.
Brexit negotiations continue to cast a shadow over the currency pair. In the meantime, London will maintain its position in Northern Ireland. Prime Minister Boris Johnson expressed the hope that the country could agree with the European Union. Currently, the UK has threatened to apply Article 16, which suspends the part of the deal that prevents a hard border on the island of Ireland. As a result, investors should monitor the market for updates.
New cases are on the rise again in the UK after a brief hiatus in COVID-19 cases, which has prompted regulators to announce an expansion in booster vaccinations for people over 40. However, increasing the number of cases may result in another lockdown with negative consequences for the couple.
The US Dollar Index (DXY) has reached its multi-day high of 95.46. At the same time, talks about an interest rate hike are resuming in the USA amid a rise in inflation expectations.
In addition to US retail sales and UK applicants, cable investors will be looking at unemployment and ILO UK earnings for further momentum. Traders will also be watching Fedspeak, which is scheduled for later today.
GBP/USD Price Technical Forecast: Looks Poised To Break 1.3400
(Click on image to enlarge)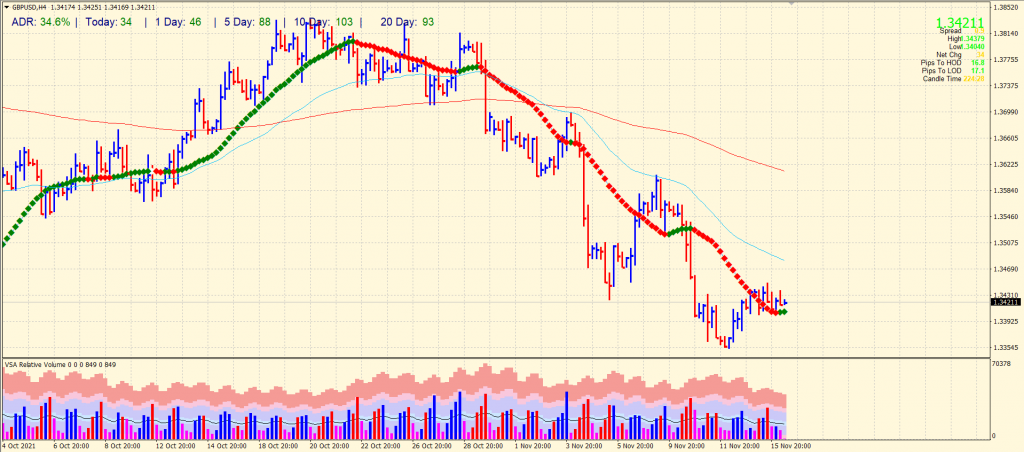 The GBP/USD pair looks vulnerable to break the 1.3400 handle. The price is in the consolidation phase after a minor up wave, indicating that the downtrend is still intact. The 20-period SMA on the 4-hour chart may provide interim support. However, the pair is prone to fall below the key SMA and test the yearly lows.
Disclaimer: Riki nema disclaimer.